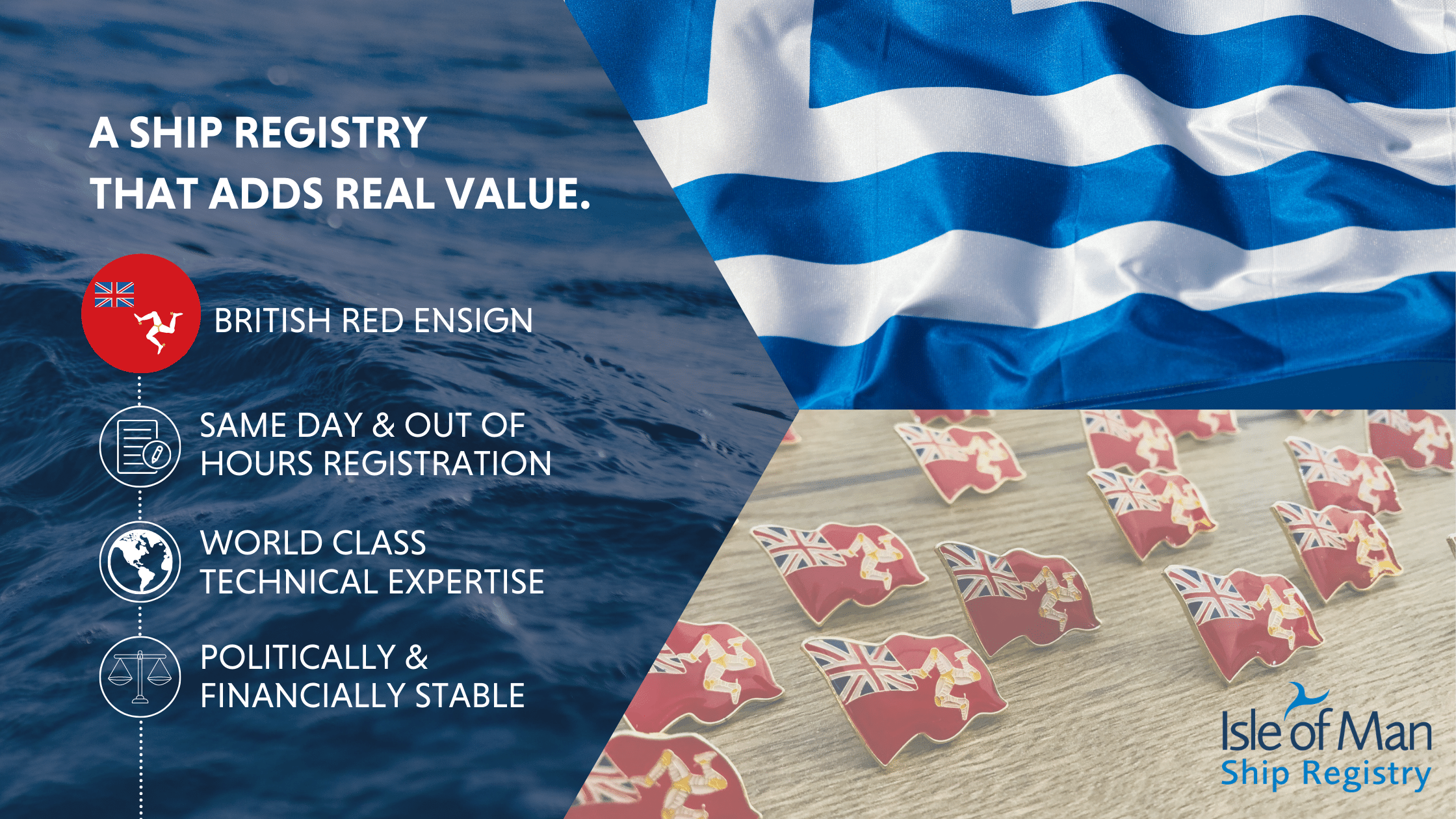 The Isle of Man Ship Registry has a proud history of working with a wide range of high profile Greek shipping companies. The Greek market is a key focus for the Isle of Man Ship Registry and clients can be assured of the highest levels of customer service as we seek to strengthen our existing relationships and build new ones.
Our Senior Management team undertake regular client visits to Greece so there is ample opportunity to access key decision makers within our organisation. We will also be in attendance at most major shipping events including Posedonia 2022.
Greek individuals and corporations are fully qualified to own ships on the Isle of Man register. We can accept a wide range of vessel types onto our register – our regulations apply international convention standards with no additional requirements.   
OUR LOCAL REPRESENTATIVE
Konstantinos Machairas is our local representative based in Athens, Greece. Konstantinos provides a service to new and existing clients with advice on Isle of Man Ship Registry requirements.
Konstantinos has a proven track record in client relations with over a decade of experience working across Southern Europe for companies such as Hudson Analytix, Total Shipmanagement Services and Brightwell Payments.
Click here to contact Konstantinos to discuss your registration requirements.
Why Choose the Isle of Man?
Elite Customer Service
Adding Value
Simple, Competitive Fees
Flexibility to Meet Your Needs
KEY INFORMATION
There is no requirement for endorsements for rating's certificates. The relevant endorsement covers both the COC and GMDSS (for deck officers). You may check more to the following links:
There is an online portal for endorsement applications with 70 – 80% issued on same day.
Where appropriate, the IOMSR can issue a "Temporary Letter of Dispensation" as a result of the failure of equipment on-board ship; there is no cost for this service. Applications are made through the survey inbox and usually dispatched within the same day. Plus 24/7 coverage of all enquiries with the duty phone for emergency matters.
All technical support is currently based in the Isle of Man providing a 24/7 service for emergency matters.
All of our electronic certificates including Certificate of Registry are issued digitally from our system and sent by email, usually to the company DPA registered on our database. The digital certificate can be forwarded to the master on board, and it is the digital copy that stands as the original. A QR code is included as an authenticator. The digital certificate can be printed off for the purpose of inclusion in the ships certificate file. If authenticity is ever questioned on board during certificate review, the original is the version emailed to the DPA and the master.
Flag State general inspections can now be undertake remotely. 
Worldwide coverage with a team of 10 senior surveyors based on the Isle of Man plus Isle of Man Ship Registry surveyors based overseas covering all major shipping locations.
No requirement for seafarers to hold an Isle of Man Discharge Book or Record of Sea Service. Officers and crew can use the seaman's books that have already been issued to them – there is no requirements for a new book.  An Isle of Man Record of Sea Service for MLC purposes, and can be downloaded for free from our website.
The Isle of Man is a non-EU flag. This is not as a result of Brexit; the Isle of Man has always been a non-EU flag.