Pleasure yacht charter ready
At the Isle of Man Ship Registry we have invested in a review of our offerings to yachts in order to make sure that our products are fit for the superyachts of 2022, where Owner's require maximum flexibility. We are excited to introduce our brand new survey and certification regime, known as 'Pleasure Yacht Charter Ready' or 'PYCR'.
BENEFITS
The PYCR has a range of benefits over traditional modes of operation of imp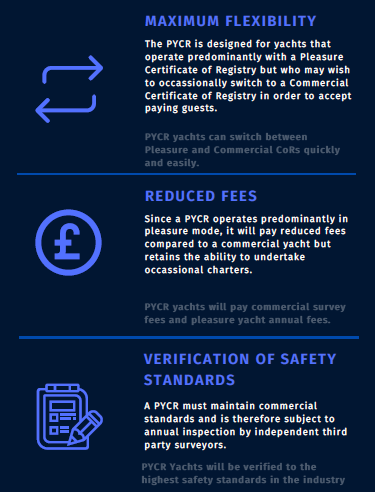 The unique benefit of the PYCR Scheme is the ease by which
yachts can transition between holding a Pleasure Certificate of Registry to a Commercial Certificate of Registry and vice versa as operational requirements dictate. 
Further details on the PYCR and other survey schemes can be found in on our website, within MSN 075. But if you're still not sure which scheme is best for your yacht, please get in touch with us and our friendly team would be delighted to discuss the pros and cons of each scheme with you.