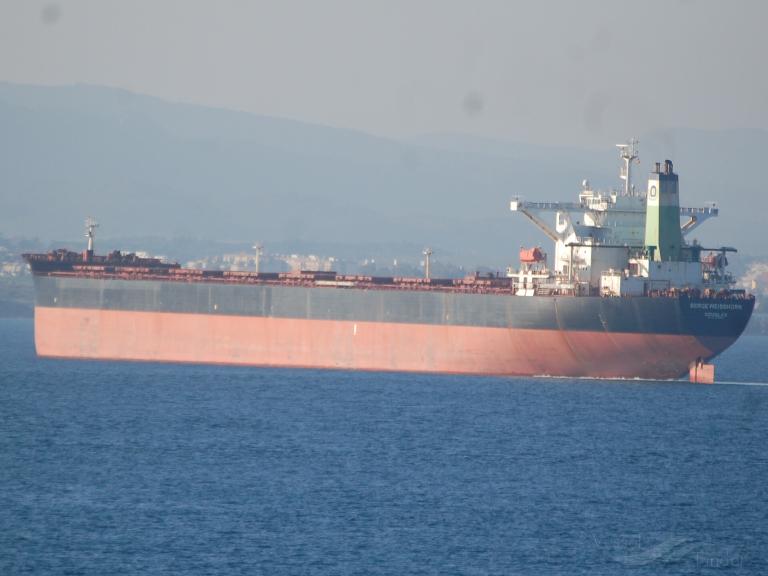 The Isle of Man Ship Registry is pleased to announce the latest Chinese owner to choose to register under its flag.
The Ore Carrier BERGE WEISSHORN (IMO:9269063) has been bought by ship owner An Li Ocean Co. Ltd of Hong Kong.
The vessel was already operating under the IOMSR flag and the new owner and management company the Hong Kong King Shan Ship Management Co made the decision to keep the vessel under the IOMSR. This followed a careful review of the technical and commercial merits of the IOMSR flag. The vessel is a 172,000 DWT capesize bulk carrier and the successful transfer took place whilst the vessel was at Yeosu, South Korea and has since unloaded in Ningbo, China with a plan to head to Singapore for bunkering.
Capt. Cheng from Hong Kong King Shan Ship Company said:
"We were happy with the service from IOMSR and its quick response for the issuing of certificates"
The latest deal follows an earlier agreement in 2021 with a Hong Kong based Chinese leasing company to flag the 82,000 DWT bulk carrier Transcenden Wisdom with the IOMSR. This vessel was delivered into service from Tsuneishi Group's Zhoushan shipyard in China during August 2021.
IOMSR director Cameron Mitchell said China is a key market for the flag state with many of its clients now drydocking and building ships in China. He said two-thirds of the IOMSR fleet is now managed from Asia.
"We're really pleased to welcome another Chinese ship owner to the IOMSR fleet," he said. "We believe we have a very strong offering in the Chinese market as through our new Shanghai office led by Jon Kingdon we have experts on the ground who can visit shipyards for inspections and meet our key clients. China is the world's biggest maritime nation and forms a central part of our growth strategy."
Mr Mitchell pointed to the IOMSR's advantage of having 'favoured nation status' in China which means IOMSR registered ships which trade in Chinese ports are offered preferential Chinese tonnage rates equating to a 28pc ports dues reduction.
"As one of the world's most respected flag states the IOMSR has many benefits to Chinese owners and shipyards and we want to raise greater awareness of those," he said. "In particular we think the pragmatic approach makes the registry stand out. The IOMSR aims to make the construction process as straightforward as possible for Chinese shipyards. This means that the IOMSR's new ship build standards are exactly the same as Panama, Liberia and the Marshall Islands. Digitally we are also evolving, we were one of the first flag states to offer digital certificates and we undertook the first ever remote periodical survey of a Bulk Carrier with DNV. Furthermore, we recently launched the industry's first seafarer welfare app to support seafarers' mental health which we know is a huge concern to ship owners."